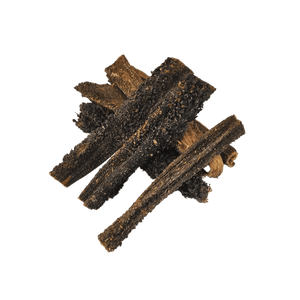 Description
Our Tripe is made from unbleached beef tripe - the stomach lining of a cow. It makes for a highly palatable, high protein and low fat treat. It's easy to digest and offers a complete amino acid profile, making it a healthy addition to any dogs diet. It is particularly rich in Selenium, a powerful antioxidant compound - which may help to boost the immune system.
This tripe is cooked and dried by us.
Features and Benefits:
Feeding Instructions:
Feed supervised as part of a balanced diet. Always ensure there is a bowl of clean fresh water available when feeding.
Composition:
100% Beef tripe
Crude Protein 75%, Crude Fat 1.5%, Moisture 10%, Fibre 4% 

Manufactured in the UK, our treats are 100% natural and include no palm oil. They are sold in brown paper packaging which us completely recyclable.