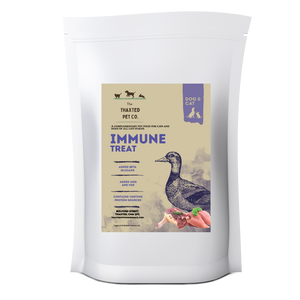 65% Total Duck & Chicken - Including 

a massive 64% Freshly Prepared!

Added Beta Glucans - to help stimulate the

 

innate immune response and aid in immune defence

Added Nucleotides -Which are essential

 

for the renewal of cells.
Added Vitamins & Minerals - which 

are essential for a pet's overall health.
Varied Protein Sources - to help support 

everyday growth and renewal of tissues and cells 

including the immune system.



Composition: 

Freshly Prepared Duck 40%, Freshly Prepared Chicken 24%, Sweet Potato 13%, Potato, Peas, Vegetable Protein, Minerals, Chicken Gravy 1%,
Nucleotides 1%, Cellulose, Omega 3 Supplement, Fructooligosaccharides (FOS, 4,807 mg/kg), Beta Glucans (3,223 mg/kg), Mannanoligosaccharides
(MOS, 1,201 mg/kg) Camomile, Lavender

Analytical Constituents: Crude Protein 25%, Crude Fat 16%, Crude Fibre 4.5%, Crude Ash 7.5%

Bag Size: 70g